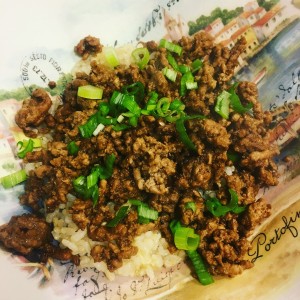 Hi Housewives!
I know, I know, it's been awhile.  I've been very busy trying to get some new and delicious recipes for you and also writing recipes for a magazine publication so needless to say, time has been limited.  However, today I have a very good and easy recipe for you that I just had to share.  I really know I like something when I am dreaming about it the next day and so today I am dreaming about last nights dinner and that only means one thing….it's worth making AGAIN!
Do you get bored of the same old thing?  I do and last night I was about to make my usual meatloaf but just wasn't in the mood for it.  I had chop meat in the fridge that I wanted to use and also a bag of Bok Choy that I needed to make as well so with that came this Korean inspired dish.  It's quite simple to make and I had most of the ingredients already so I gave it a whirl.
1 package of ground beef (You can also use ground turkey or ground meatloaf mix)
3 cloves of minced garlic
1/4 cup of low sodium soy sauce
2 teaspoons of toasted sesame oil
few shakes of crushed red pepper
few shakes of black pepper
sliced green onions for garnish (I love this part of it so don't leave this out)
In a large skillet cook your ground chop meat of choice and garlic until no longer pink.  Be sure to break it up as if you were making tacos..lol.
While that's cooking in a small bowl mix together your soy sauce, sesame oil, red pepper flakes and black pepper too.  When your meat is no longer pink pour it over your ground beef and cook for a couple more minutes.
I use brown rice for this recipe but you can use white if you prefer.  I buy the brown rice you can cook in the microwave so be sure to put that in a few minutes before serving.
Spoon your rice into a bowl and then add the beef on top of it and garnish with your green onions.
Enjoy!
RHC