---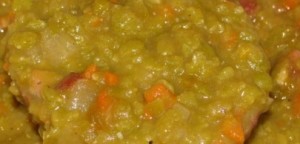 Hi Housewives!
It's soup season once again and today's recipe is for slow-cooked split pea soup.  The holidays are soon approaching and with that brings a ton of leftover.  If you make a ham the leftovers can easily be used to make a yummy split pea soup.  The ham bones are great too for added flavor.  I usually make this in the slow cooker but it can b done on a stovetop as well.
a bag of dried green split peas
1 ham steak (cubed) or leftover ham with ham bones/hock
1 small onion chopped
2 cloves of minced or smashed garlic
3 medium carrots sliced
3 celery stalk chopped and remember to add some torn up leaves
6 cups of water
1 can of chicken broth
salt and pepper to taste
Rinse over the green split peas and take out any pebbles.  Then combine all ingredients in slow cooker and stir.  Cook on low for 8-10 hours.  That's it!  Easy!  Go out and enjoy your day and come home to a hearty, healthy, warming your soul soup!

You can add quartered potatoes to slow cooker if you like.  Enjoy!
RHC