---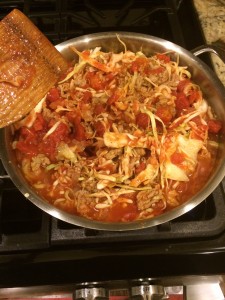 Hi Housewives!
I have received many recipes this week and let me tell you it was very hard trying to decide which recipe to feature on my blog today.  I thank you all for participating!  Last year, I shared with you my attempt at making stuffed cabbage.  It was not one of my brighter moments.  It was tedious work and the end result was bland.  So, after reading 100s of emails I can across this email for unstuffed cabbage rolls sent in by Emma from Naples, Florida and I decided to give it a try.  It was much easier and rather quick to make.  We loved it and the best part about it was that it was a healthy dish with minimal ingredients.  Traditional stuffed cabbage is usually made with rice and takes lots of time.  Emma's recipe was carb-less too, quick, healthy and most importantly TASTY!  This is going to definitely become of my my weeknight go to meals!!!  Thank you for sharing Emma!  

1 head of cabbage chopped (I actually used a bag of shredded cabbage to save time)
1 can of diced tomatoes (14 oz.)
1 can of tomato sauce (14oz.)
1 chopped onion
1 package of chop meat (I used ground turkey meat)
a clove of minced garlic
salt and pepper to taste
In a skillet saute your onion then add the chop meat.  When your meat is cooked through add the cabbage, tomato sauce and diced tomato as well as the garlic.  Season with salt and pepper.  Stir ingredients together and let come to a boil.  Cover with lid and let simmer for about 30-40 minutes more until cabbage is tender.  Serve and enjoy!
RHC