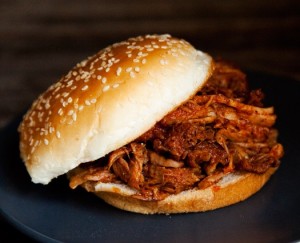 Hi Housewives!
Happy Memorial Day Weekend everyone!  Whether your off on a vacation, having or going to a Holiday BBQ or just home relaxing this weekend, let's all take a moment to THANK all the men and women who have served our country in the armed forces and given up their lives for our safety.  I thank each and every one of you!
Are you having a Memorial Day BBQ?  Then, this recipe is great and easy to make without having to slave over the hot oven or BBQ!  It's also a great dish to bring to a party.  It really doesn't get any easier than this.  You just put everything in your Crock Pot and go on with your day.  Who doesn't love that?  My BFF Cathy shared this recipe with me years ago and it's a great recipe for when you just don't have the time to slave over the oven.  It's  perfect for when entertaining and need the oven space for other things you are making.  I made this last week for a party I was throwing at our house and it was a hit!  I just put everything in the crockpot around 11am and let it cook for 8 hours.  Then, kept it on warm until it was time to eat.  I was making lasagna, my artichoke sausage pie and some other things so I needed the oven space for those things.  It was a great feeling knowing that I literally didn't have to do anything else to this dish.
1 pork tenderloin
1 bottle of BBQ sauce
water
brown sugar
potato slider rolls
Place your roast in your slow cooker.  Pour the whole bottle of BBQ sauce over it.  I then fill that bottle halfway with water and shake it up to get every last bit of the BBQ sauce in my crockpot and pour over my pork.  I top it with some brown sugar about 1 handful.  Cook on low for 8-10 hours.  When done I shred it with a fork and place it on a hamburger bun, I prefer potato rolls.  If you want more BBQ sauce then add more at the end.  Mine didn't need extra BBQ sauce but thats personal preference.
Enjoy!
RHC