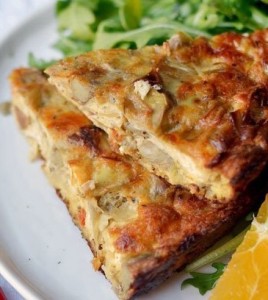 Hi Housewives!
Spring is finally here and with that brings numerous holidays.  Easter is one of the holidays that I usually cook for and I've always made Artichoke Pie as one of my many dishes.  However, last year, I decided to add sausage to it to make it even more delicious.  My mother used to make an artichoke pie and although I don't have her recipe this one is pretty close to how I remember hers.
1 frozen pie crust
1-2 cans of artichoke hearts (drained)
2 tablespoons of extra-virgin olive oil
1/2 cup grated parmesan cheese
1 package shredded mozzarella
1 package of sweet Italian sausage out of the casing and crumbled
1 onion chopped
Salt and Pepper to taste
2 garlic cloves
Sauté onion and artichoke hearts in heated olive oil until fragrant.  Add chopped garlic and continue cooking until garlic is nearly browned.
Next add the sausage to the same skillet  and cook through (casing should be removed), sometimes you can find it in the stores without the casing, I prefer that.  When your sausage is done, drain the extra oil and add everything in a bowl.  Add the mozzarella cheese, grated cheese, salt and pepper. Try to go easy with the salt as the sausage and cheeses are salty.  Stir to combine.  Add mixture to pie crust and top with remaining mozzarella and grated cheese.  Bake at 350 degrees for 30-40 minutes until golden brown.
Enjoy!
RHC