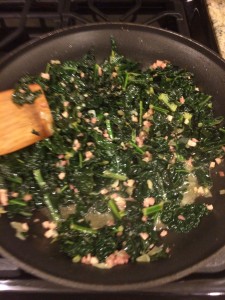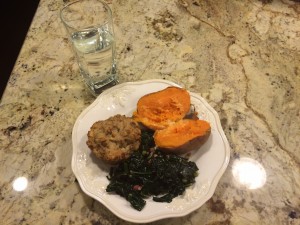 Hi Housewives!
Kale, Kale, Kale….it seems to be the super veggie of the moment and I've tried it many different times and various different ways but had yet to fall in love with it.  Well, this week I think I may have just fallen for this green, super veggie.
1 bag of Kale (I buy Trader Joe's torn and washed kale)
1/4 cup of pancetta
2 tablespoons of extra-virgin olive oil
1 small onion chopped
2-3 cloves of minced or chopped garlic
1 cup of low-sodium chicken broth
black pepper
Kale, like spinach, cooks down quite a bit so if making this for 4 or more people double up on above ingredients.
Heat your olive oil in pan.  Add the pancetta and onion and sauté for about 5 minutes.  Add the kale and mix so that olive oil coats the kale.  Add the chicken broth and bring to a boil.  Cover and reduce the heat to medium low, and simmer until kale leaves are tender and broth has reduced.  Cook like this for about 10 more minutes covered but check periodically and if it gets to dry add a little more broth or water.
Stir in the garlic and raise the heat to high and boil uncovered until the pan is dry and broth is reduced.  Season with some black pepper.  You probably won't need to add salt as the pancetta and broth add enough sodium.  Serve with your main meal as a healthy side dish.
Enjoy!
RHC