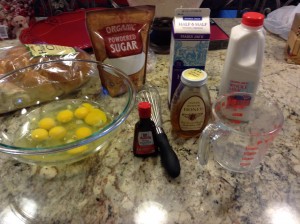 Hi Housewives!
Today I'd like to share what has become my traditional Christmas morning breakfast.  Since, I do not cook for Christmas because my father cooks the traditional Feast of the 7 fishes on Christmas Eve (which by the way is amazing) and my mother-in-law does Christmas day (which is also delicious), I wanted to start my own Christmas tradition with my husband for Christmas morning.  So, every year, I make this delicious French Toast Bread pudding.  It has become our little traditional thing to do and tradition is what the holidays are all about.
1 challah loaf, sliced 3/4 inch thick
8 extra-large eggs
4 cups half and half
1 cup of whole milk
3 tablespoons honey
2 tablespoons pure vanilla extract
a sprinkle of cinnamon
confectioner's sugar and syrup for serving
Preheat your oven to 350.
Arrange the sliced bread in a baking dish, cutting the bread to fit the dish in 2 layers.  Set aside.
In a large bowl, add the eggs, half and half, honey, milk, vanilla extract, cinnamon and whisk together.  Pour the mixture over the bread and press the bread down.  Allow to soak for 10 minutes.
Place the baking dish in a larger roasting pan and add enough very hot tap water to the roasting pan so that it comes up about 2 inches to the side of the baking dish.  Cover roasting pan tightly with tin foil but do not let it touch the pudding.  Tent it and then make 2 slashes in the foil to allow some steam to escape.  Bake for 45 minutes.  Then, remove the foil and bake for another 40-45 minutes, until custard puffs up and the top is golden.
Remove from the oven and let slightly cool.
With a small sieve, lightly dust with the confectioners' sugar and serve hot with your syrup of choice on the side.  I prefer pure maple syrup.  This can be prepared the night before, refrigerated, and baked in the morning although I have never done it that way before. Let me know how it comes if you do it that way.  It is also prefect for brunches.
Merry Christmas!  Happy Holidays to one and all!
Enjoy!
RHC