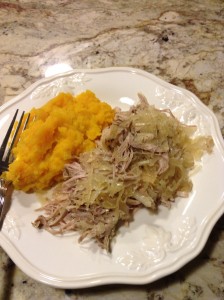 Hi Housewives!
Crockpot dinners are great, especially for the working woman.  It's great to come home from a long day of work and have dinner ready and waiting!  However, that being said,  it's hard enough for me to get ready, grab coffee and get out the door on time let alone start chopping veggies and meats early in the morning.   That's why this recipe is the perfect one for the mad morning rush….there's no chopping and you can have it prepared in 5 minutes! And better yet, you don't sacrifice taste.  What makes this dish particularly delicious is the caraway seeds.  I've always made roast pork with sauerkraut but one day decided to sprinkle some caraway seeds in the crockpot and when I ate it I felt like I was eating a sandwich on rye bread!  It really added a lot to this dish.
1 roast pork or pork tenderloin
1 package of sauerkraut
6-8 cloves of garlic
caraway seeds (my secret ingredient for this dish)
salt and pepper to taste
1/2 cup water
Place everything in the slow cooker.  Set on low for 8-10 hours and go to work!  Come home to a meal!  What's better than that???
Enjoy!
RHC