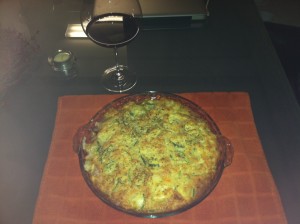 Good Morning Housewives!
Today's recipe is zucchini pie.  This dish is great for parties or as a holiday side dish.  It can be served hot or cold.  I often get asked to bring this dish to parties I'm invited to.  I am also asked to share this recipe a lot so I thought it was time to share this one with all of you!  Hope you enjoy it as much as my friends and family do!
3 cups of zucchini (Fresh or Frozen) I usually use fresh.
1 onion chopped
3 eggs
1 cup of Bisquick
1/2 cup vegetable oil
1/2 cup parmesan cheese
1/2 teaspoon marjoram
Shake or 2 of parsley flakes
Shake of Pepper
2 handfuls of shredded cheddar cheese
Mix ingredients in a bowl.  Pour in baking dish.  Bake at 350 for 30-40 minutes until golden brown.
Cool and Enjoy!
RHC