Hi Housewives!
This is one of my husband's favorite dishes that I make. I sort of created this dish one day as I was looking through some recipe books. I took a little something from each recipe and put it into one yummy recipe of my own.
1 package of country pork ribs (boneless) OR 1 pork tenderloin
1 medium onion diced
8-10 cloves of minced garlic
2 cans of low sodium chicken broth
1 can of diced tomatoes
1 small can of sliced black olives
2 tablespoons of dry or fresh parsley
1 cup of vermouth cooking wine or white wine
1 teaspoon of dry or fresh rosemary (I put a little less because I do not love rosemary so use your own judgement here)
Salt and pepper to taste
Put all the ingredients into your slow cooker and stir.  Cook on low 6-8 hours or high 3-5 hours.  Serve over brown rice!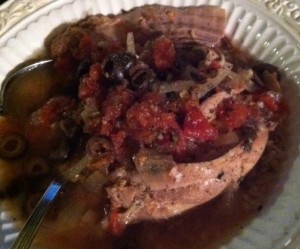 Enjoy!
RHC